Committed To Your Dental Health And Wellness
Do you have silver fillings, also known as dental amalgams, in your mouth?
Did you know that these fillings contain mercury, a toxic substance that can be harmful to your health? Don't worry, we have got you covered!
At Krider Dental Wellness Center, your health and safety are always our top priority, which is why we follow the Safe Mercury Amalgam Removal Technique (SMART) to ensure the safety of our patients during the removal of silver fillings. The SMART technique involves using a full body barrier, head/face protection, oxygen delivery, a non-latex dental dam, a saliva ejector, an oral vacuum, water spray, a conventional evacuation device, and removing the amalgam in large chunks.
With these measures in place, you can feel confident and secure during your appointment.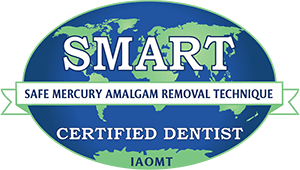 Our dental team is trained in using SMART, so you can trust that you're in good hands!
Schedule your appointment today.